If you're looking for the best modern war movies produced after 2000, then you've come to the right place. 
This blog post will provide a comprehensive overview of must-see films from recent years that accurately capture both the horror and heroism of this war genre. 
War movies provide audiences with a glimpse into the harsh realities of war, as well as its beauty and tragedy.
From heart-wrenching dramas to tense thrillers, you'll find something to appreciate in these powerful stories. 
By the end of this article, readers will have a better understanding of these modern war movies and which are worth watching.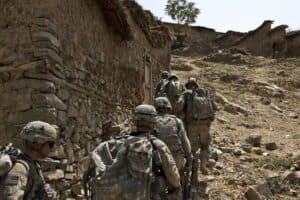 Keep in mind that I didn't consider the classic movies produced before 2000, so this article will consist mostly of the best Afghanistan war movies and the best Iraq war movies.
So unfortunately no Vietnam war movies from military history.Also no place for great movies like Saving Private Ryan that was produced in 1998.
But there are a few others that happened in Africa and Europe.
Also, most are based on actual events, but a few are fictional, but the quality of the work gave them a spot on this list, and they are all must-see movies.
I also included a mini-series or two because they were too good to leave out of a list like this.
Next time you are looking for the best war movies on amazon prime, take a look at the best mini-series on this list of best modern war movies.
So let's take a look at the best modern war Movies.
The Best Modern War Movies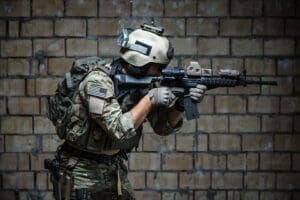 The Outpost
Outpost Keating, located deep in the valleys of Afghanistan, was a US Army camp situated in one of the most dangerous locations in Afghanistan. 
As chronicled in the movie "The Outpost", this American outpost faced relentless attacks from Taliban fighters. 
Despite being outnumbered and suffering heavy losses, the US soldiers who had been based at Outpost Keating valiantly faced death to save their fellow troops. 
The Outpost is an incredibly powerful and moving story of bravery and courage, as these soldiers fought against immeasurable odds to defend their outpost in a war-torn land.
Zero Dark Thirty
Based on true events, Zero Dark Thirty captures the intensifying tension of the search for the world's most notorious terrorist leader, Osama bin Laden. 
Told from multiple perspectives, this riveting thriller follows CIA operative Maya and Navy SEAL Team Six as they combat extremist forces in a mission to capture their target. 
An unrelenting pursuit of intelligence leads them from Pakistan to an awe-inspiring climax that lays bare the intricate procedures of America's most elite warriors in their greatest battle yet.
With action-packed sequences and remarkable performances from its stellar cast, Zero Dark Thirty is an adrenaline-pumping ride that realistically depicts the committed collaboration between the CIA and Navy Seals as they hunted down one of our country's biggest threats.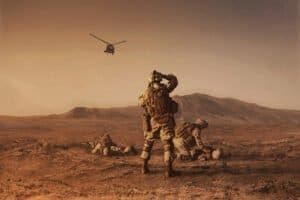 12 Strong
12 Strong is a critically acclaimed movie about Green Berets, a special operations team of the U.S. Army Special Forces, tasked with an important mission in Afghanistan following the events of 9/11. 
This powerful true story follows these brave soldiers on their dangerous mission to take down the Taliban while adapting and learning how to use the ancient battle tactics of the local fighters. 
From Claudio Santamaria's portrayal of Afghan general Abdul Rashid Dostum to Chris Hemsworth as leader "Captain Mitch Nelson," 12 Strong is an action-packed drama that pays tribute to the immense sacrifices made by these Green Berets and honors their heroic service and determination.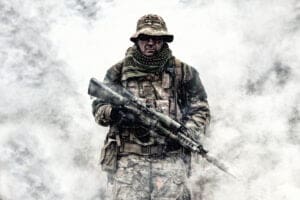 Lone Survivor
"Lone Survivor" is widely considered to be one of the best war movies ever made. 
The gripping story of Lone Survivor four Navy Seals on a covert mission behind enemy lines in Afghanistan and captures their harrowing experiences as they face seemingly insurmountable odds. 
Boasting an all-star cast, including Mark Wahlberg, Emile Hirsch, Ben Foster, Taylor Kitsch and Eric Bana, this intense film bears witness to the emotional highs and devastating lows of modern battle. 
Its unflinching look at warfare makes it an unforgettable experience that is sure to leave viewers with a newfound respect for those who serve in our armed forces.
Lone Survivor is a must watch war film.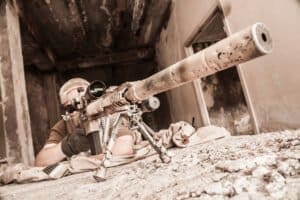 American Sniper
"American Sniper" is a powerful cinematic experience that follows the intense life of Navy Seal Chris Kyle. 
It's arguably one of the best modern war movies released in recent decades, portrayed brilliantly by Bradley Cooper.
The story demonstrates the psychological weight that Kyle had to endure while performing his duties as a navy seal, while also navigating his personal life, which included marriage and children. 
A great amount of detail went into researching Navy Seals operations in this movie, and it's obvious when watching it. 
"American Sniper" will leave you with a great deal to think about, making it an unforgettable viewing experience.
This is an excellent war film.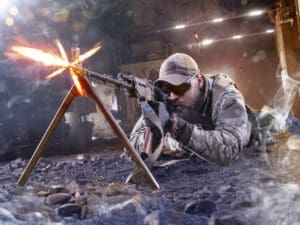 13 hours
'13 Hours' is an intense drama that portrays the events of the September 11, 2012, attack on a U.S. Special diplomatic compound in Benghazi, Libya. 
The movie follows the fight of Special Operators as they bravely defend their CIA station from relentless militia attackers and ultimately sacrifice themselves in a heroic attempt to protect innocent lives. 
Drawing from extensive research on the topic and personal interviews with the Special Operators involved, '13 Hours' paints an unforgettable portrait of a determined group of men in the face of overwhelming odds.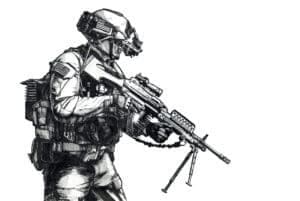 Generation kill
The mini-series "Generation Kill" offers an intense and realistic look into the Iraq War. 
Based on the book written by the same name, this series follows the United States Marine Corps' 1st Reconnaissance Battalion's journey during 2003 invasion of Iraq. 
With graphic depictions of combat scenes and authentic portrayals of Recon Marines in Iraq, viewers get a genuine sense of what life as a Recon Marine during war is like. 
Generation kill emphasizes the complexities that Marines faced throughout their mission and shows how different personalities were shaped by their experience in Iraq. 
A must-watch series and one of the best on the Iraq war.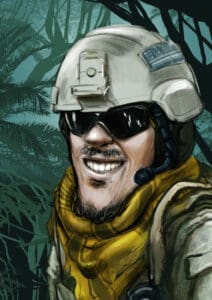 The Hurt Locker
"The Hurt Locker" is a gripping and powerful account of life on the Iraq battlefield for US soldiers. 
Set during the Iraq War, it follows the story of an Explosive Ordnance Disposal team who are tasked with the dangerous job of disarming bombs in the midst of battle. 
It portrays the conditions soldiers face during active duty and brilliantly captures their struggles to cope both physically and emotionally. 
This film is not only compelling but also eye-opening in its portrayal of Iraq from a soldier's perspective.
The Hurt Locker got some things wrong, but it does show the chaos of Iraq well at that time.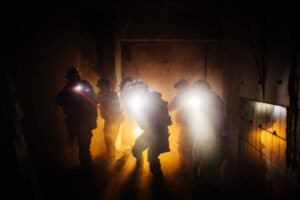 The Terminal List
The Terminal List is a pulse-pounding mini-series created by Chris Pratt that tells the story of Navy Seal James Reece.
Jack Carr's New York Times Best Seller novel of the same title lends its name to this gripping re-telling of a Navy Seal's fight against those who betrayed him and left him for dead. 
Reece finds himself questioning his actions and his sanity as he attempts to discover what happened to his team during their final mission, and his struggle with underground forces throws viewers into an action-packed revenge saga. 
Armed with only courage and determination, Reece makes it his mission to get revenge for all he has lost, as well as uncover the truth about that fateful day that cost him so much. 
With its harrowing tale of revenge, The Terminal List will keep you glued to the screen until its shocking conclusion.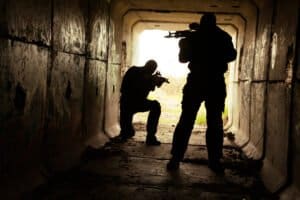 Body Of Lies
"Body of Lies" is a compelling CIA thriller concerning the war on terror and the nature of collaboration between governments. 
Starring Leonardo DiCaprio as CIA agent Roger Ferris and Russell Crowe as CIA operative Ed Hoffman, this David Ignatius novel adaptation follows Ferris as he travels to various Middle Eastern countries in an effort to track a high-profile terrorist. 
Through his experiences, he learns about betrayal, loyalty, and the power held by those in authority. 
Filled with exciting action sequences and an alarming exploration of the blurry lines between fact and fiction, "Body of Lies" is a riveting tale that offers both thrills and thought-provoking insight into issues affecting our world today.

Armadillo
Armadillo is an intense Danish documentary that follows Danish soldiers as they are deployed to Afghanistan. 
They grapple with life-or-death decisions daily and their experiences change them in ways they can't ignore. 
The film captures the vast scope of human emotions, the camaraderie between soldiers, and the cruelty of war. 
Armadillo provides an unvarnished and moving look at what modern warfare is like, showing Danish soldiers as they witness the complexities of a warzone as well as their own internal battles with morality, faith and patriotism.
It is an unforgettable portrait of conflict told beautifully through compassionate storytelling.

Restrepo
Restrepo is a 2010 documentary created by journalist Sebastian Junger and best-selling author Tim Hetherington. 
The film gives an in-depth, factually-accurate portrayal of the war experience in Afghanistan.
It follows a 15-month deployment of the US army's Second Platoon to the desolate area of Korengal Valley, which was considered to be strategically important due to its proximity to Pakistan. 
This level of gritty realism has led many critics to label it as the best war movie ever made, demonstrating how emotionally captivating raw footage can be when compiled into a cohesive film. 
Junger and Hetherington drew on their first-hand observations of life at Outpost Restrepo, immersing the viewer in what life was really like for this platoon on one of the most dangerous frontlines in Afghanistan.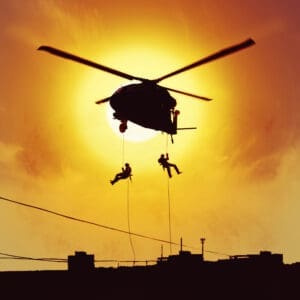 Black Hawk Down
"Black Hawk Down" is widely considered one of the best war movies of all time.
One of the best movies Ridley Scott ever made.
It recounts the events of a failed United States military mission in Mogadishu, Somalia, and depicts the heroic efforts of the Elite Delta Force Operators and Army Rangers during the mission. 
The film's intense action sequences and raw emotions give an accurate look into the horrors of war, painting an unforgettable picture for viewers. 
Although it may be tough to watch at points, this gripping depiction of military engagement should not be missed.
In the heat of the infamous Black Hawk Down incident in Mogadishu, Somalia, two Delta Force snipers showed unwavering bravery and selflessness.
Master Sergeant Gary Gordon and Sergeant First Class Randall Shughart voluntarily put themselves in harm's way to protect their fellow soldiers and save the life of a downed pilot.
Despite facing insurmountable odds, the two snipers held off enemy forces for an extended period before ultimately sacrificing their own lives.
For their heroism, Gordon and Shughart were posthumously awarded the Medal of Honor, the highest military honor that can be bestowed upon a soldier.
Their bravery in the face of such danger continues to inspire people across the globe.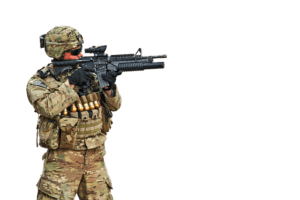 Jarhead
"Jarhead" offers a deep, authentic look into the Marine lifestyle and their involvement in war. 
The movie follows Marine sniper Anthony Swofford as he navigates the Marine Corps through his time in Operation Desert Storm. 
With its intense scenes, stirring soundtrack and outstanding performances from actors like Jake Gyllenhaal and Jamie Foxx, "Jarhead" is an entertaining yet powerful take on Marine operations during wartime. 
An interesting exploration of Marine life pre- and post-war also brings forth thoughtful reflections relevant to this day's military state. 
This film uses excellent cinematography to capture the culture and experiences of these Marines as they wage war halfway across the globe.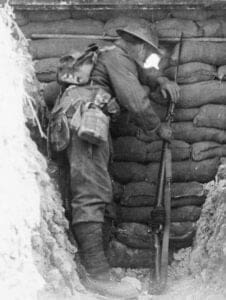 1917
The newly released movie, "1917", captures the harrowing experiences of British soldiers during the First World War. 
Directed by Sam Mendes, this movie offers viewers a raw and visceral look into the battlefield experience in an unvarnished manner. 
Set in Northern France, two British soldiers must deliver a crucial message over dangerous enemy lines that could potentially save 1,600 lives. 
It provides viewers with great visuals and never wavers in its gripping intensity throughout this journey. 
"1917" is a must see movie as it keeps people on their toes as they traverse cliffhangers at every corner.

Fury
Set in April 1945, during the final stages of World War II, Fury is a drama that follows the story of a crew led by army sergeant Wardaddy, expertly played by Brad Pitt.
The crew embarks on a desperate mission behind enemy lines to take out a Nazi stronghold.
As horrific battle scenes unfold, viewers are given an intense and graphic look into the daily hardships faced by Allied soldiers during one of the world's most tumultuous periods.
Along this journey, audience members will experience both the heroism and tragedy experienced in these times of uncertainty in World War II.
A captivating and gripping war film from start to finish.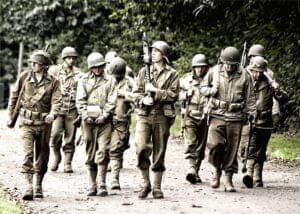 Band Of Brothers
The acclaimed mini-series "Band of Brothers", is one of the most highly praised war stories and the best series ever created. 
Produced in 2001 by Steven Spielberg and Tom Hanks, this captivating and stirring series follows Easy Company, of the 101st Airborne Division Paratroopers during World War II. 
Through archive footage, interviews with original Easy Company members, and reenactments, viewers get an intimate portrayal of their struggles on the front line and their camaraderie. 
Despite its numerous award nominations and recognitions, "Band of Brothers" takes us beyond a simple World War II story; it captures emotion, honor, sacrifice, bravery, and brotherhood like never before.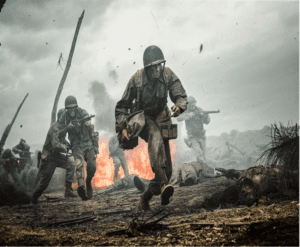 Hacksaw Ridge
Hacksaw Ridge is a war film based on the life of Desmond Doss, a conscientious objector and Medal of Honor recipient for his heroic actions during the Battle of Okinawa in World War II.
The movie portrays the intense fighting that took place on Hacksaw Ridge, a 400-foot cliff face on the Japanese island, and how Doss, a devout Christian, refused to carry a weapon and instead served as a medic, saving the lives of 75 soldiers without firing a single shot.
The film has been praised for its accurate portrayal of the war's brutality and the unwavering determination of Doss, played by Andrew Garfield.
Hacksaw Ridge is a testament to the bravery and selflessness of those who served in the military during one of the deadliest conflicts in history.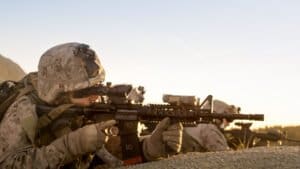 Conclusion
The best modern war movies offer entertainment as well as a powerful insight into the human condition. 
From musing on the thin line between hero and villain in Zero Dark Thirty to interrogating questions of morality in Black Hawk Down, these films give us an understanding of the price of violence and its impact on individuals. 
So that was my list of modern war movies,so next time you are scrolling for the best war movies on amazon prime take a look at this list of best military movies and start watching.